Asahi Solder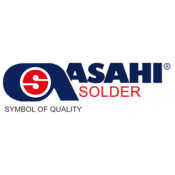 As Singapore Asahi Chemical & Solder Industries Pte Ltd had been established since 1977 playing the role of a manufacturer and distributor of high-quality solder products and related soldering chemicals. Singapore Asahi, we are fully committed to complete customer satisfaction and uncompromised product quality. This means listening to our customers, understanding their needs and consistently producing and delivering products that more than meet their requirements.

Asahi solder products carry with them the Certification Mark License awarded by the Singapore Productivity & Standard Board (PSB) in recognition of their conforming to the JIS Z3282 and ANSI STD 006 Specifications. Today, our trademark 'ASAHI' brand is well established as the industry standard bearer and internationally recognised as having a standard exceeding international industrial requirements. Emphasis on research and development will continue to enhance the superior quality and reliability of these products.

Having established quality standards and stringent requirements adopted in all our manufacturing and quality control processes. Our quality management system was certified by SGS as conforming to requirements of SS ISO 9001:2000. 'ASAHI' solder products are now distributed throughout Asia, Europe, the Middle-East and the United States.

In our continued investments with R&D and Technical Support research capabilities, and through our strategically located overseas manufacturing & distribution facilities, our customers worldwide are assured of our extensive marketing and technical support. In the area of soldering fluxes, chemicals and solder paste, we have a complete range of products for PCB fabrication and assembly. With strong emphasis on research and development we are able to enhance the superior quality and reliability of these products.
Synergy Electronics is the sole New Zealand Agent/Distributor for Asahi Solder products.
---
Showing 1 to 2 of 2 (1 Pages)